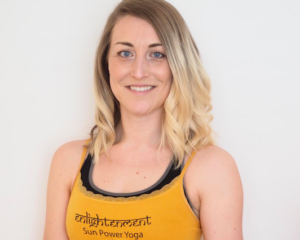 I first discovered yoga when I was 16, when a lady came into our school to teach us a class as part of a health and wellbeing week. I never enjoyed sport or PE back then, but after her session ended I felt like I had finally found something that made me move my body but also calmed my overactive brain (I was a very loud, dramatic teen!).
I kept it up as a pastime throughout university and my twenties, before finally taking the plunge in January 2020, and signing up to do my 200 hour teacher training at the prestigious Sun Power Yoga school. It was way more intensive than I could have ever imagined, but all the hard work and late night revision was worth it when I qualified!
I firmly believe that there is a type of yoga for everyone. Whether fast and dynamic, slow and gentle, indoors, outside surrounded by nature or even hanging from the ceiling! I have many facets to my personality, so I like that I can mix my practices up depending on what mood takes me that day, and what I am wishing to gain from a session. The style I teach is a blend of Ashtanga to build internal heat and stamina, Iyengar focusing on correct body alignment and Sivananda working with the breath and mind. I also like to bring in some elements of yogic philosophy to create an all round experience.
In all classes I offer modifications and variations making them suitable for any level; from complete beginner through to seasoned yogi. So whether you want challenging flowing sun salutations, or some days all you feel like doing is lying in savasana doing some breathwork, I look forward to seeing you on the mat!